Snubber Board: $17
This is a newly designed replacement Snubber board for Williams pinball machines. The new relays include the following upgrades:
Relay is smaller and more compact
Upgraded the resistor to a larger 5W flameproof resistor to eliminate the common failure from overheating that the original boards had.
Added screw terminals for easy replacement.
No soldering required when under the playfield.
As with all Kohout Enterprise boards, only through hole components are used (no surface mounts)
Replaces C-11232 snubber (board number 5768-11095-00)
Below is the new Snubber board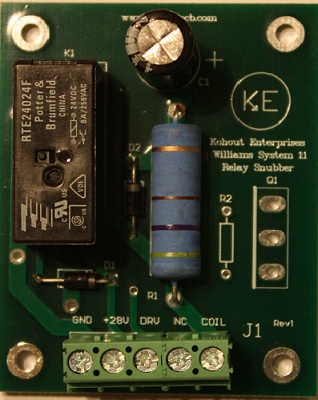 Below is a picture of the original boards. Notice the R1 resistor on the left of the board. This resistor failed because of overheating. That same resistor is the large blue one in the picture above.