Williams System 11c Power Supply
Price: $115
This is a drop in replacement for Williams and Bally pinball machines using the System 11c power supply board. This board replaces original part number D-12246-xxx. The benefits of our new board include the following:
Plug and Play replacement
Measure your power supply voltages and instantly check status of the fuses without using your meter!
Added voltage meter for the 5V, +12V, -12V, 100V and -100V Display
LED lights for instant supply and fuse status checks
Thicker boards for more stability to help reduce stress cracks
Optional jumpers for 100v or 91v display settings

91v settings are used to lower power consumption and lengthen the life of the original gas displays
100v is the setting used on the original boards

Circuit adjustment for HV display to waste less power
High power resistor updated to flame proof Metal Oxide as recommended by most repair guides
5V regulator updated to High Efficiency Switch Mode Power Supply
Heat sink added to bridge rectifier to keep cooler and last longer
Update obsolete components to current production parts
High quality 105C capacitors used for longer life
As with all Kohout Enterprise boards, only through hole components are used (No surface mount).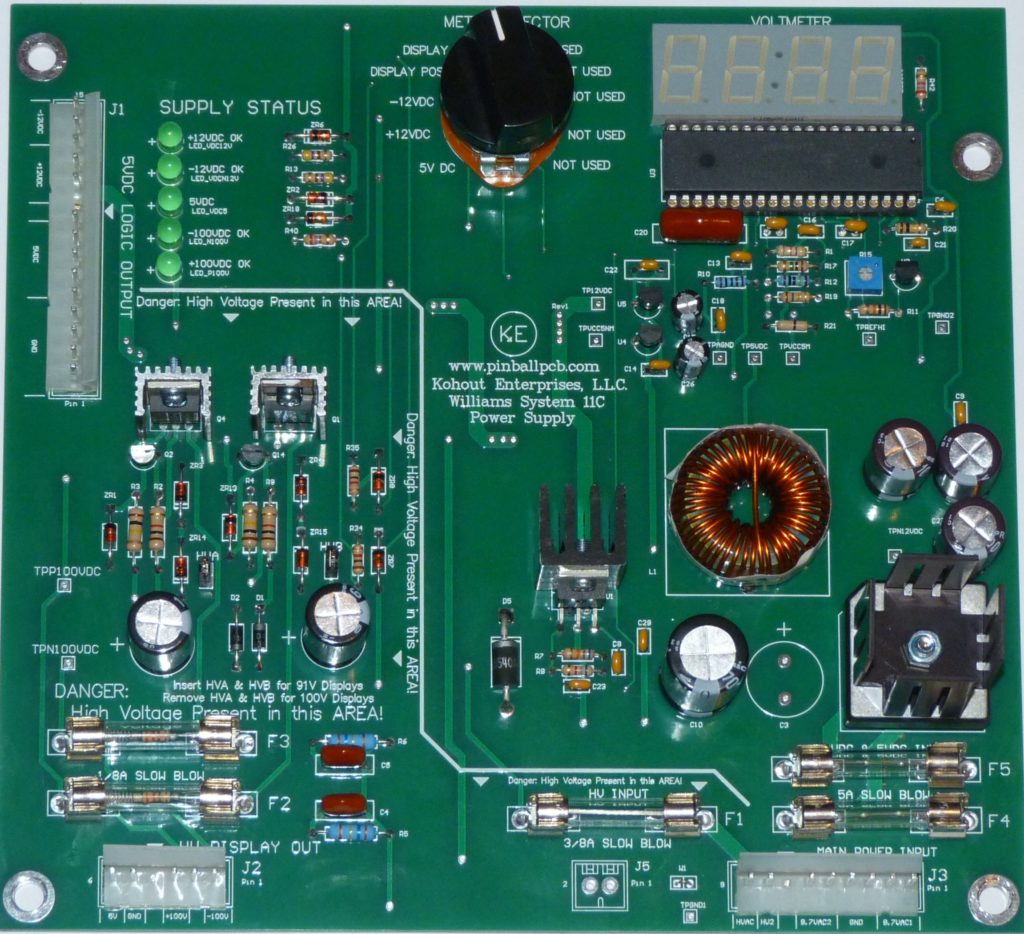 Here is a list of machines this Power Supply is used in:
Bugs Bunny Birthday Ball
Bad Cats
Black Knight 2000
Diner
Dr Dude
Earthshaker
Elvira & The Party Monsters
Game Show
Jokerz
Mousin Around
Police Force
Pool Sharks
Radical
River Boat Gambler
Rollergames
Transporter
Whirlwind