Price: $70
If you need a sound and a speech board, be sure to check out our new Sound and Speech board combo board: System 6/7 Sound Speech Board Combo
This is a drop in replacement for most System 6, 7, or 9 games and has many improvements from the original. This will keep your game running for many years to come. 
This speech board was used in a variety of Williams pinball machines using the Williams 6, 7 or 9 sound boards. This board is built on a 0.094″ board instead of the typical 0.063″ board. This makes a HUGE difference in the rigidity of the board. You can feel a difference just holding the replacement board and it makes a BIG difference when installing while removing or installing the connectors as it greatly reduces the chance for stress cracks.
This board has jumpers for the ROMs, so that both the original TMS-2732 EEPROMs or easier to find, standard 2532 EEPROMs can be used. As will all of the Kohout Enterprises boards, all Integrated Circuits are machine pin socketed for easy replacement, and only through hole components are used (No surface mount). Finally, the new speech board has its own IDE 40 pin connector for easy replacement.
The following is included with your purchase:
Speech Board
40 pin IDE ribbon cable

Speech ROMs of your choice (please include game name in the Machine Section when ordering)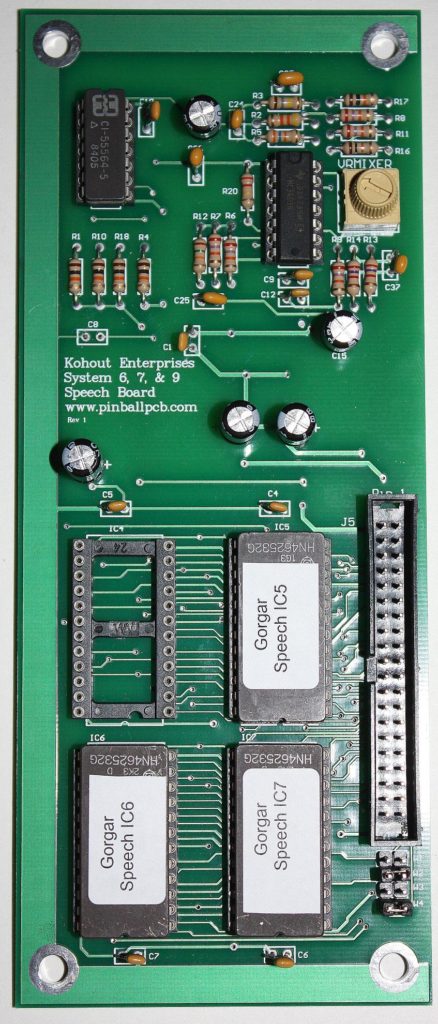 System 6 and System 7 pinball machines that use this speech board include:
Black Knight
Gorgar
Blackout
Firepower
Jungle Lord
Pharoah
Alien Poker
System 9 pinball machines that use this speech board include:
Space Shuttle
Comet
Sorcerer